All organisations face ever-evolving risk from cyber activities. As technological innovation enables organisations to secure business advantage, it also increases the risks to organisations from cybercrime. Data integrity, data protection, confidentiality, denial of service, service availability, these are just some of the impacts that cybercrime can have on a business.  Above all, time, money, reputation and credibility are all at stake and can be severely compromised.
Are you compliant with your legal obligation to keep data secure, including GDPR?
Would you recognize and know how to respond to a security breach?
Do you understand the risks your business faces and the impact of a cyber-attack?
Are your security measures designed from users upwards and are they adequate?
How do you decide what gives you the best investment in better security?
Red Oak Consulting are the experts you can rely on. We have a proven track record in helping customers manage complex risks, handle stakeholder engagement, and deliver in change management, all effectively and efficiently. We know the importance of understanding risk. We know the consequences and devastation that a cyber-attack and a security breach can cause. So, at Red Oak Consulting we believe in looking at things in a different way. We believe that cyber security is not just about technology, but about people, communication and managing risk.
To give our customers greater peace of mind, our team of consultants have secured numerous industry accreditations, including those for security.  With the accreditation of Microsoft Azure Security Technologies (AZ-500) exam our consultants can: manage identity and access; implement platform protection; manage security operations; and secure data and applications.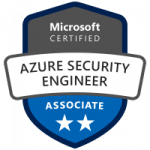 As a business, our ethos is not to work with a prepared solution or promote a specific product. Instead, we work with each customer on an individual basis, looking at their context and objectives whilst establishing what is critical for their business to operate and succeed. Our advice does not assume that the customer needs expensive technological solutions or that they need more or complicated security. Our advice is tailored to be relevant and appropriate to give management the right information to make an informed decision on what to do next.
"Red Oak made the whole project go smoothly and they understood our expectations".  Dr Sam Rolland – Senior Lecturer, College of Engineering